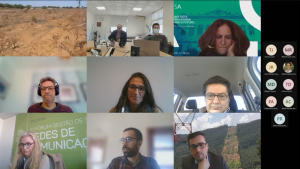 The initiative aimed to show the results achieved so far in the scope of the various rePLANt activities.
Over half a year, the entities that compose the consortium had the opportunity to show what is being done and the results that are emerging. Although in webinar format, different dynamics were performed, from live demonstrations, as in the case of The Navigator Company and Fravizel, which showed the operation of the new ARG equipment for partial soil tillage. ForestWISE and the University of Trás-os-Montes e Alto Douro (UTAD) showed in a video, the methodology adopted in the tests done to three forest inventory mobile applications.
ADAI and whereness presented the advances of the fire propagation simulator integrated with GIS (Geographic Information System). In turn, INESC TEC had the opportunity to demonstrate the Forscope forest operation optimization model.
In the risk management scope of work, REN showed what it is developing in the area of forest fire monitoring. Meanwhile, Labelec and UTAD, spoke about optimizing the acquisition of LiDAR data to quantify biomass, to improve the analysis and intervention processes in the defence of electrical infrastructures.
The University of Porto (FEUP), presented the study being developed about risk communication associated with burning, applying the mental models of Carnegie Mellon University.
The project will disseminate more results throughout the year, and the next initiative will be the II rePLANt's Technical Conference, which will take place on May 26, in Museu do Oriente, Lisbon.