Scientists from TECH4EFFECT (T4E), ForestWISE and rePLANt met recently for a scientific exchange to discuss the potential of collecting data from forest machines to further the aim of the T4E SILVISMART digital efficiency portal beyond the finalization of T4E in June. Collecting data to bolster resource efficiency in the utilization of timber for complete value chain capture and better forest management could also be the basis for fire prevention.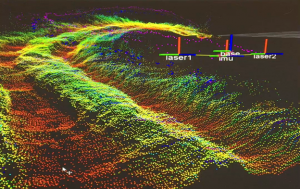 European scientists exchange ideas
Continued collaboration between the European projects is in line with the spirit of publicly funded European research, development and innovative aims to make valuable impacts in the forest sector, especially in creating and sustaining jobs in rural communities.
During the scientific exchange, T4E-coordinator and Head of Re
search from the Division of Forest and Forest Resources, at the Norwegian Institute of Bioeconomy Research, NIBIO, Rasmus Astrup, presented the T4E SILVISMART digital efficiency platform with fellow scientists and colleagues, Joachim Heppelmann and Frans Kockum. T4E Harvesting Leader and Forest Engineer from the University of Natural Resources and Life Sciences in Vienna, BOKU, Gernot Erber, spoke about work across the harvesting work package of the project.
Targeting fire prevention
Alexandra Marques from ForestWISE and Maria Teresa Candido Silva from the rePLANt project presented their research, particularly examining the possibilities of further exchange in collecting forest machine data.
Based in Portugal, rePLANt was one of the first projects of the ForestWISE collaboration which, according to its website, connects "academic, industry and providers of digitalisation technology" to target strategies for integrated forest and fire management. The recently launched EUR 5.6 million, national rePLANt project will run for a period of three years until 2023.
Multiple aims of forest management
After the meeting, Astrup said that he was happy to see that there was a common interest between the parties on collecting and using forest machine data in digitalising the forest sector.
"We hope to explore potentials for increased productivity and reduced environmental impact on SILVISMART. Better forest management using digital tools and technologies can lead to large efficiency gains if put into practice," Astrup said.
"Regarding any potential collaboration with these projects, I think that due to the large fire risks that countries like Portugal are faced with, there is an interest and a need to manage forests more carefully as all parties look towards longer-term fire preventative measures and at the same time ensure that there is a constant, reliable supply of timber.
"Digitalisation of forestry has many currently underutilized benefits regarding the management and use of forest resources along the entire value chain," he concluded.
According to the rePLANt launch press release, the project will use optical cameras to simulate and predict fire behaviour, also using robotics in cultivated forest operations to improve the resilience of forests. Boosting the forest sector's competitiveness remains a major aim of the project to increase profitability and the reliability of resource supply.
"lnnovative products and services will be introduced in the sector, having a positive impact on the entire chain, including on its service providers and forest producers," the press release reported.
Meanwhile, ForesWISE is a non-profit organization designed to target forest fires by gathering professionals from academia, industry and public administration for this purpose.
Global forest fire incidents on the rise
Global forest fire incidents have increased over the last decade caused by many factors aside from climate change that has witnessed unprecedented periods of higher temperatures and less rainfall.
Better forest management for total value chain capture, for example, by tending the forest to create space for desired tree species to grow, and to clear the forest floor of unwanted species, creates a resource supply of young timber for other uses.
Tending the forest also prevents the build-up of fire loads which fuel forest fires that contribute to harmful emissions with the release of carbon dioxide and other sources of carbon into the atmosphere, including fine particulate matter called soot which is harmful to human health.
EFI video on forest fires, prevention
T4E partner EFI, the European Forest Institute, has an informative video on the topic of fires and fire prevention in relation to opportunities that increased forest management could bring to communities in the Mediterranean by expanding the bioeconomy that creates jobs for rural economies.
may 7 2021